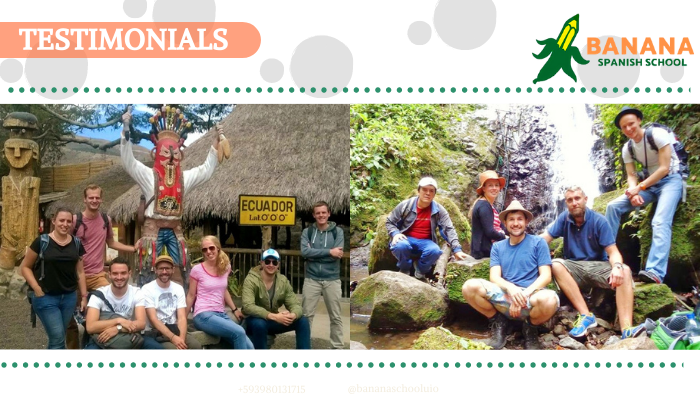 Testimonials
At Banana Spanish School we are very happy that our students live the experience of learning a new language. Here are some testimonials
---
---
---
---
Paula Rabaey, professor St. Catherine University:


Banana Spanish School was one of my best experiences in Quito! Nancy and Arturo, made occupational therapy students from St. Catherine University feel welcome and comfortable. It was a great learning environment and I learned so much in three weeks! They were easy to work with and made learning spanish fun. My students commented that learning spanish enhanced their experience while in Ecuador.
I enjoyed my experience so much that I have continued Skype lessons to keep improving my spanish. I would recommend Banana Spanish school to individuals and groups to enhance your experience while in Quito, Ecuador" .


parabaey@stkate.edu
---
Richard Kidd:


As a retired 70 year old from England who recently emigrated to live permanently in Ecuador, I would like to strongly recommend Banana Language school to any other aspiring students of Spanish.
The school caters for all ages of students

The teachers are all very experienced and classes can be tailored to suit every individual's particular needs: what initial standard, hours of classes, one to one or in groups and over whatever period classes required.

The school is situated in La Mariscal and within easy walking distance to most amenities, most importantly to hostels of known family houses.

The owners will arrange the aforesaid accommodation on request and if required assistance on arrival at Mariscal Sucre airport.

classes are also available to include a stay in the Selva in a lodge with classes to suit.
I never thought that learning to speak a foreign language could be such an enjoyable experience!



Rckidd99@yahoo.com
---
Dirk Lange, Germany:

From the first until the last Day I was totally satisfied with everything in Banana Spanish School. During my 8 weeks of Spanish classes, I learnt by well educated and experienced professors, Nanci and Wilmar, a super Spanish.
I was very happy, because they adapt individual to every student without loosing their concept, cause that is very important when you like to learn or teach a language. Every time I could feel by myself and hear from other students, that the learning success of the students is very important for them. There were no day I did not laugh with my Professors and we build up a very good rapport.
I was glad with my school every day. But that is not all, the Professores support you with everything and arrange beside super homestays contacts to everything which you need and offers you sometimes special Tours for weekends. Anytime I would return to Banana Spanish School and can recommend them by heart. Thanks for everything !!!

Los comentarios están cerrados